SliQ Invoicing and Quoting includes several invoice templates. A range of templates are included.
You can choose a template and colour scheme that works best with your company logo. If you don't have a logo, don't worry - templates are included that work with and without logos.
SliQ Setup Tab
The SliQ setup wizard helps you set up your business details, choose a currency and add your logo, allowing you to raise your first invoice or quote in minutes. After you are up and running, you can go to SliQ's setup tab and make a number of other choices:
Whether to have remittance slips on invoices
Whether to have remittance slips on statements
Choose to have service invoices or product invoices
Choose how paid invoices are printed
When you run SliQ for the very first time, the default Classic invoice template is selected. On the Setup tab, you can choose one of a number of invoice styles and colours to suit your business. The setup tab shows a preview of how your items (invoices, quotes, credit notes and statements) will look with your chosen template style. You can even print a test page to help you choose.
These screenshots show the SliQ setup wizard displaying just two of the many invoice templates available for you to choose. Please visit our UK website to find out more about our invoice templates.
Select Invoice Template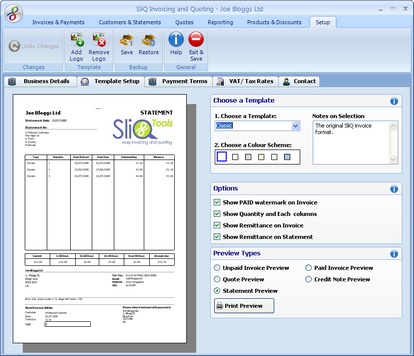 Example Invoice Styles